All wildlife and habitats within the National Nature Reserve both on the island and inter-tidal areas are fully protected by Irish and European Legislation.
ADVICE
1. Inter-tidal areas can be very dangerous places so do NOT walk out on the mudflats and sandflats.
2. It is an offence to willfully damage habitats and disturb wildlife. Behave within the law at all times.
3. Check tide times and dress appropriately for the weather (try to avoid bright colours).
4. Dogs cause immense disturbance to the wildlife so please leave them at home. The level of dog feaces on the island is also a matter of some concern.
Location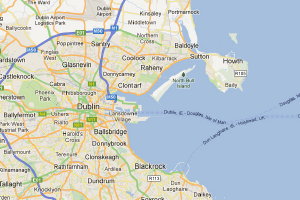 How to get there:
Bus: Dublin Bus 130 (timetable) from the city centre to the Bull Wall (aka Wooden Bridge) and mainland side of the south lagoon.
Train: DART (train service timetable) from Dublin City to Raheny Station. There is a 1 km walk to the causeway which is the main access route onto the island.
Car: the island can be accessed by cars etc either via the Bull Bridge (aka Wooden Bridge) or the causeway. Parking is permitted on the causeway but on the beach parking is now restricted to a small area adjacent to the Bull Wall.

Best time to visit

In all seasons waders and wildfowl are best seen from the coastal road or causeway about 1 or 2 hours before high tide. Highest numbers can be seen from autumn to early spring (September to February) but hundreds and occasionally thousands of waders can be seen in the summer months.

Spring and summer are ideal for butterflies and flora in addition to the resident land birds.